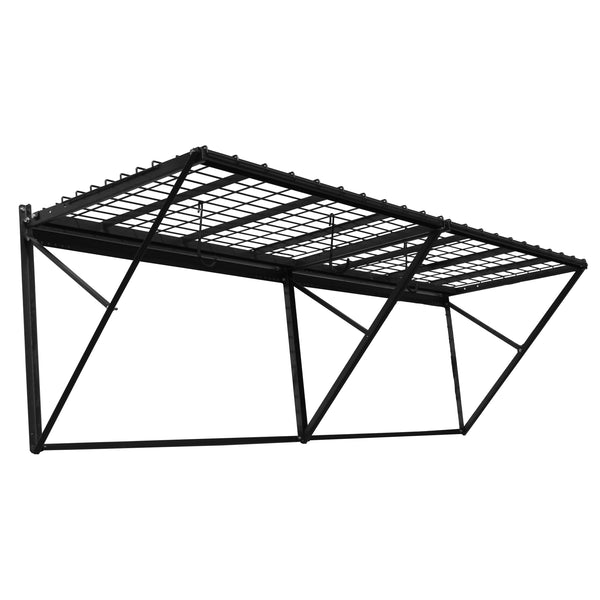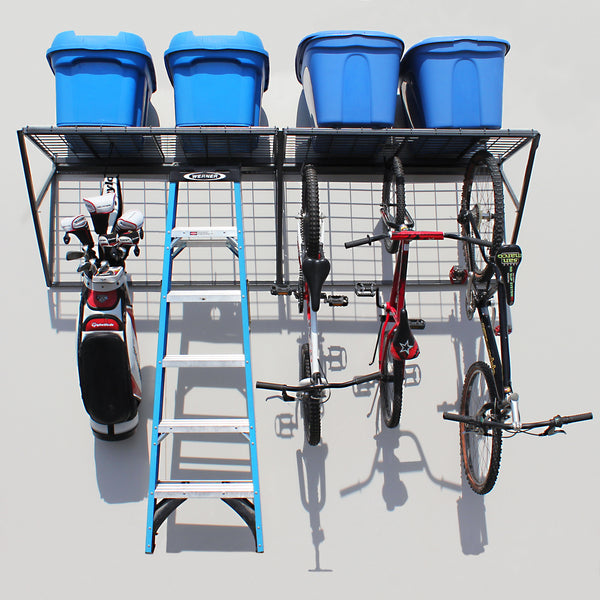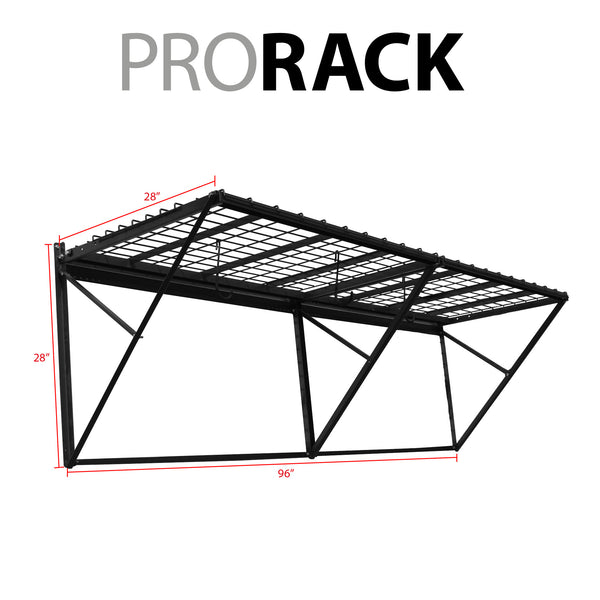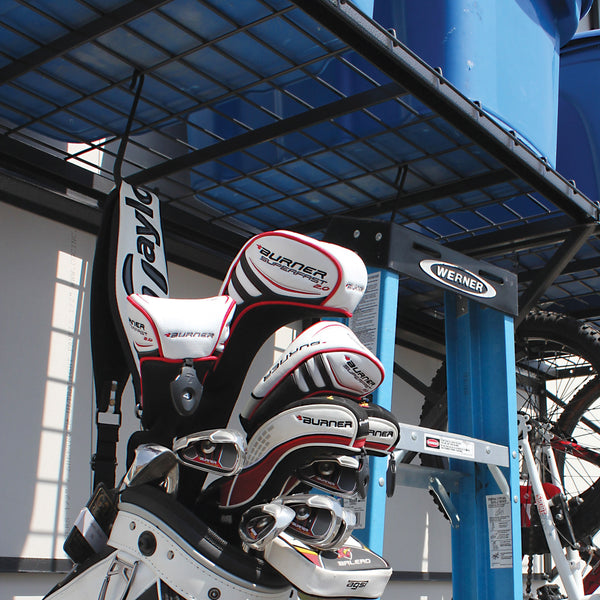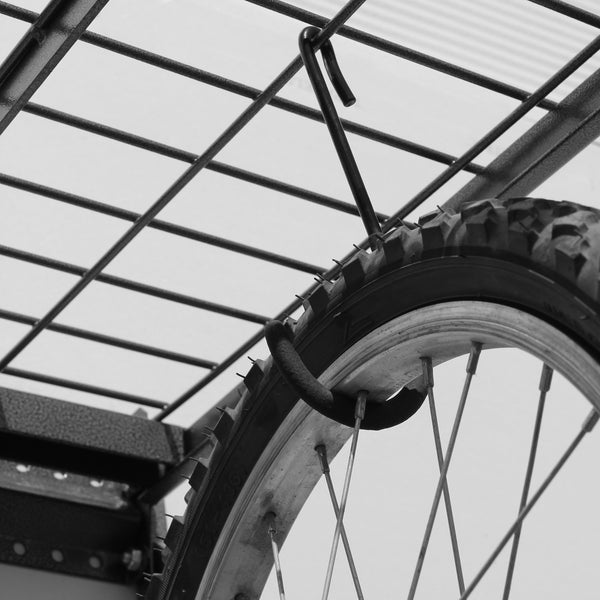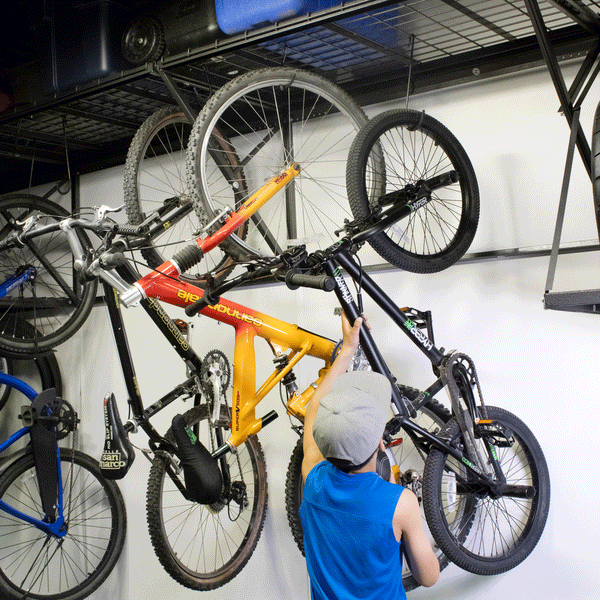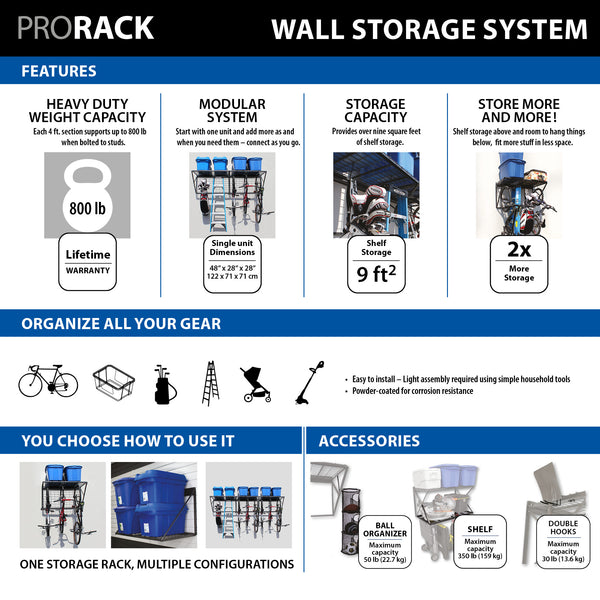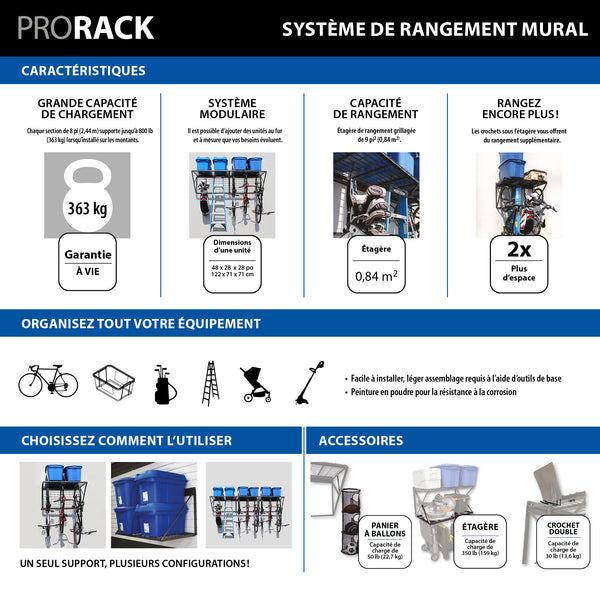 N° d'article : 60008K

Les ProRacks extra-forts de Proslat sont conçus pour vous offrir un maximum d'espace de rangement tout en libérant le plancher. Notre concept breveté vous offre un espace de rangement pour vos articles massifs sur le dessus, la flexibilité de suspendre d'autres articles au-dessous et la possibilité de voir ce qui se trouve sur la tablette au travers la grille. Fabriqué pour durer, notre ProRack supporte jusqu'à 800 lb* (363 kg) lorsqu'il est installé correctement dans les montants muraux. Facile à installer, ne vous cassez pas la tête avec une installation au plafond.
Vous pouvez acheter cet article dans une configuration de 4 pi, 8 pi ou 12 pi (1,2 , 2,4 ou 3,6 m). Il est possible d'ajouter des extensions de 4 pi (1,2 m) comme bon vous semble.
Configuration de 8 pi comprend:
2 x ProRack de 4 pi.

6 x Crochets S de 5 po.

6 x Crochets S de 12 po.

Quincaillerie et instructions
Le ProRack peut être installé directement dans les montants muraux

Capacité de charge de 800 lb (363 kg) lorsqu'installé dans les montants muraux (par section)

Acier de première qualité au fini poudre électrostatique pour une meilleure résistance

Peinture cuite résistante à la corrosion et au fini martelé
Assemblage requis.

Dimensions (section de 8 pi) : 96 x 28 x 28 po (L x H x P)
Complicated
Instructions are difficult to follow as which leg of angle supports face direction… and support brace for optional tire rack or shelf is not great either. FYI, I ordered a 8' and 4' shelf and should have ordered a 12' shelf because it is cheaper and did not realize all shelves come as 4' sections in each box. Also, Steel components had lots of missing painted sections.
Hi David
Thank you for taking the time to share your feedback with us.
We sincerely apologize for the confusion you experienced with the assembly instructions.
It 's been noted and we will work on making these instructions more user friendly.We also have a instructional Video on YouTube to help with the assembly.
We are also disappointed to hear that some paint sections was missing.
You can contact our customer service team and they will send you replacement pieces.
Once again we thank you for your feedback and apologize for any inconvenience you've experienced.
Thank you
Les grilles pour tablette auraient besoin d'un meilleur fit mais pour le résultat final tout est ...
J'ai commandé un de 8 pieds et deux de 4 pieds , mais je ne savais pas que le 8 pieds était 2 sections de 4 pieds.
Sinon j'aurais commandé un 12 pieds et un 4 pieds et j'aurais économisé un $10+taxes de plus.
J'aurais aimé être informé de votre part que je pouvais économiser en achetant dans se format (12´+4´)☹️
Bonjour Pierre,
Désolé pour la confusion, je vais vous crédité la différence sans aucun souci. Merci de nous signaler que c'était pas très clair sur le site, on aime recevoir vos avis pour améliorer notre service et rendre l'expérience d' achat plus facile et agréable. Sur le site c'est indiqué que c'était 2 sections de 4 pieds dans la section de configuration du produit.
Very happy
Very happy with product. Has a very high weight rating for a wall mount rack. The instructions aren't great, but the ProSlat website has a helpful video and assembly was easy after viewing. Had some damage to the shipping boxes and a few parts fell out. E-mailed ProSlat and they had replacements out the same day. Great customer service.
Pros: Sturdy, Looks Great, Nice Design.
Good product
We got this rack and just finished installing it with a help of a handy friend. It was fairly easy to install. Parts were labelled and easy to identify. Our garage ceiling wasn't very high so we had to hang low, and it was a bit disappointing that the tire rack would really take up a good chunk of the room. But definitely a good and solid product.