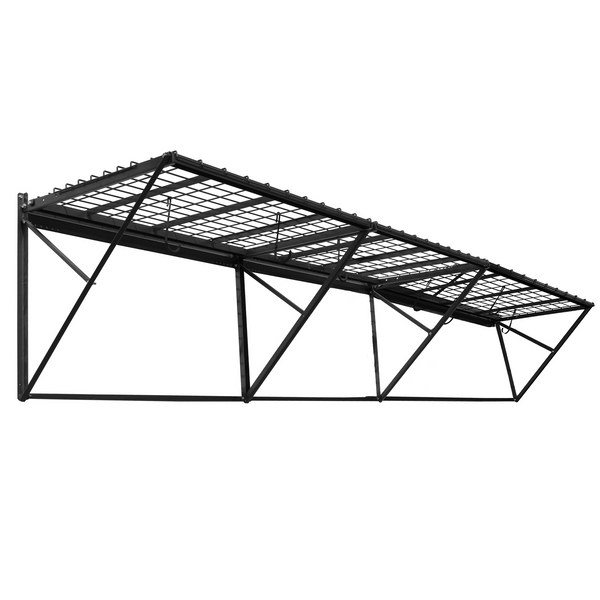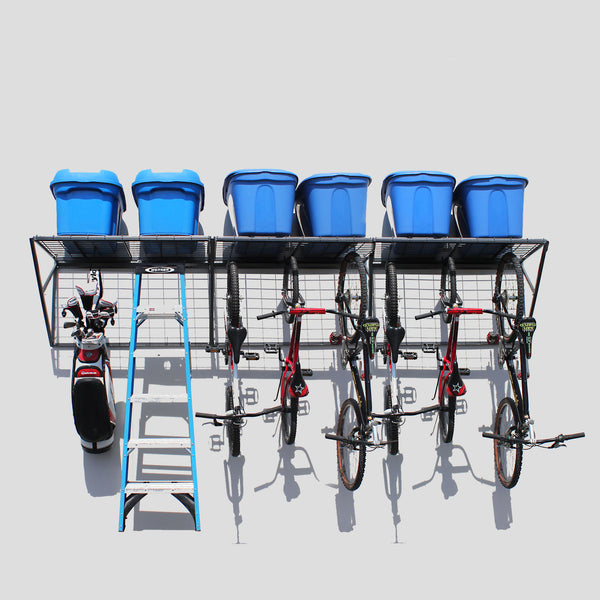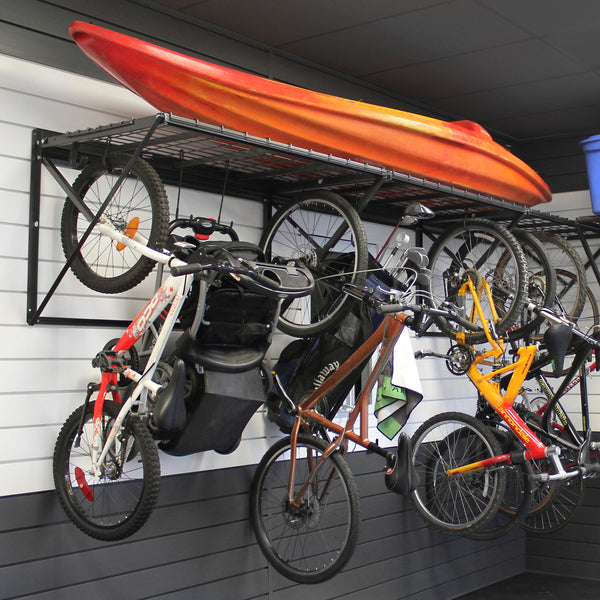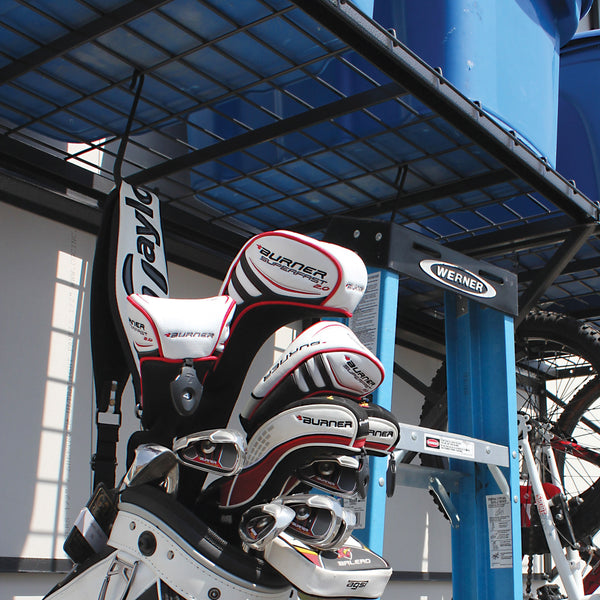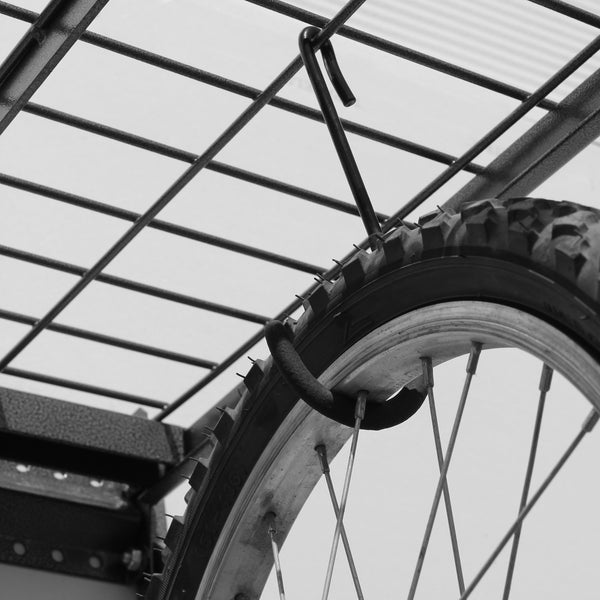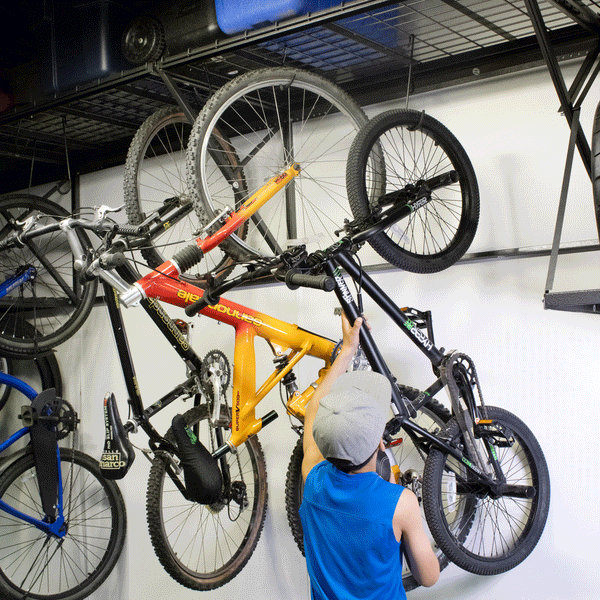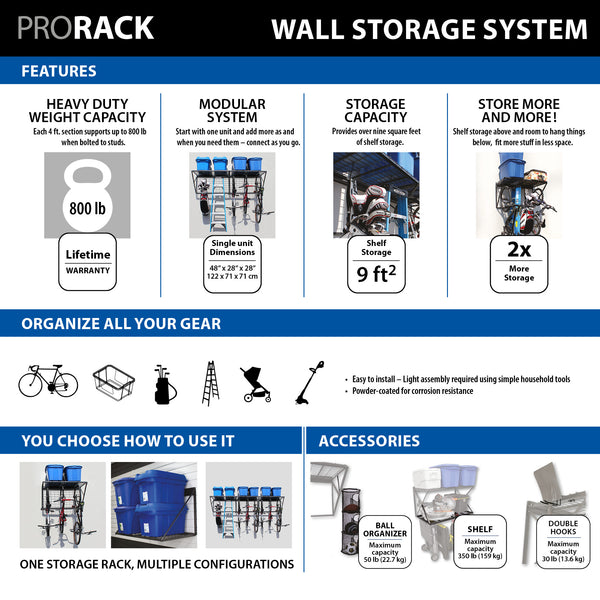 N° d'article : 60012K
Vente du printemps – Pour un temps limité, économisez 115$!

Les ProRacks extra-forts de Proslat sont conçus pour vous offrir un maximum d'espace de rangement tout en libérant le plancher. Notre concept breveté vous offre un espace de rangement pour vos articles massifs sur le dessus, la flexibilité de suspendre d'autres articles au-dessous et la possibilité de voir ce qui se trouve sur la tablette au travers la grille. Fabriqué pour durer, notre ProRack supporte jusqu'à 800 lb* (363 kg) lorsqu'il est installé correctement dans les montants muraux. Facile à installer, ne vous cassez pas la tête avec une installation au plafond.
Vous pouvez acheter cet article dans une configuration de 4 pi, 8 pi ou 12 pi (1,2 , 2,4 ou 3,6 m). Il est possible d'ajouter des extensions de 4 pi (1,2 m) comme bon vous semble.
Configuration de 12 pi comprend:
3 x ProRack de 4 pi

9 x Crochets S de 5 po

9 x Crochets S de 12 po

Quincaillerie et instructions
Le ProRack peut être installé directement dans les montants muraux

Capacité de charge de 800 lb (363 kg) lorsqu'installé dans les montants muraux (par section)

Acier de première qualité au fini poudre électrostatique pour une meilleure résistance

Peinture cuite résistante à la corrosion et au fini martelé
Assemblage requis.

Dimensions (section de 12 pi.) : 144 x 28 x 28 po (L x H x P)
Hi Gregory,
Thank you so much for providing feedback on your experience with our products and for uploading a photo. Looks great!
Have a great day,
It worked so well we just bought another 12 foot
Nice product
Very sturdy and straight forward to install. Really nice product
Hi Gary,
Thank you for sharing your positive feedback on our product. We're thrilled to hear that you found it to be sturdy and easy to install.
We take great pride in creating products that are both durable and user-friendly.
Thank you for choosing our products!
The Proslat Team
Pro rack
Good product, installation and instruct were also good.
Great
Installation was easy. Cutting was easy. Looks great. 4 stars because 2 4x4 sections ended up about 3" less height than 2 8x8 sections. Luckily they are on opposite side of a door so it is not super notable. Will re submit review after the winter as there is no allowance for contraction/expansion.