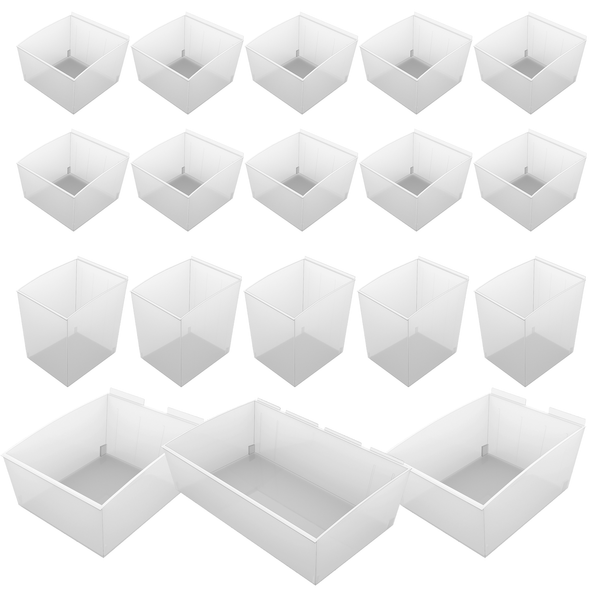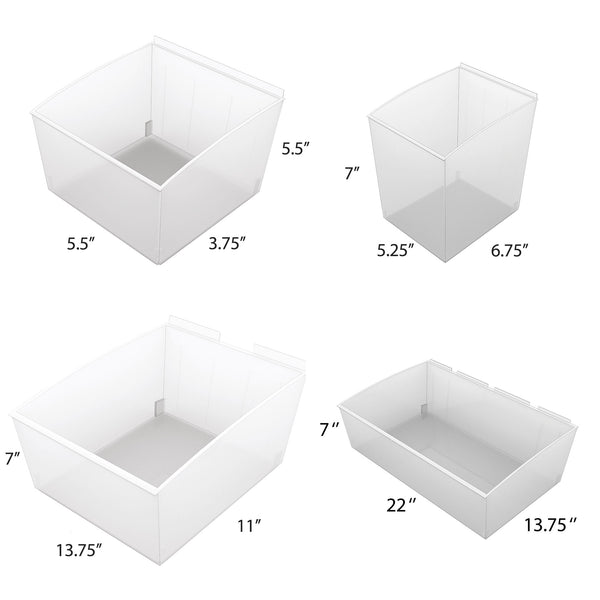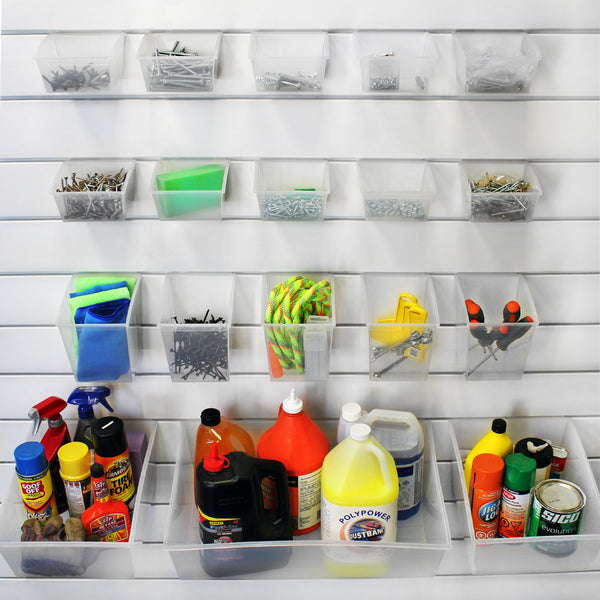 N° d'article : 03-250-CL
Cet ensemble tout-en-un est idéal! Ces bacs transparents en plastique de haute qualité se fondront à votre décor tout en assurant votre sécurité grâce à leurs coins arrondis. Idéal pour les produits nettoyants, les contenants, les rouleaux de papier, etc
L'ensemble comprend :
10 x Petit ProBin (02-210-CL)

5 x ProBin profond (02-220-CL)

2 x Grand Probin (02-230-CL)

1 x Très-grand Probin (02-240-CL)
Conçu pour s'accrocher exclusivement sur les panneaux de rangement Proslat ou Evolia
Idéal pour le garage et la maison
Facile à accrocher et à nettoyer
Capacité de charge et dimensions des ProBins :
Petit Probin :

33 lb (15 kg) –

5,5 x 3,75 x 5,5 po (L x H x P)

Probin profond :

66 lb (30 kg) –

5,25 x 7 x 6,75 po (L x H x P)

Large Probin :

66 lb (30 kg) –

11 x 7 x 13,75 po (L x H x P)

X-Large Probin :

55 lb (25 kg) –

21,5 x 6,5 x 13,5 po (L x H x P)
The amazing probin kit
I am using my pro in kits in my garage . They are the best invention . No more clutter and everything can be organized so well. Things are easy to find and the garage looks clean and organized.
Worth every bit
There's so many accessories that make this a great platform but this package is a must have. It cleaned up my garage, piles of loose things, and saves me time finding what I need. For the price, it's a no-brainer. You need this and it's worth every penny.