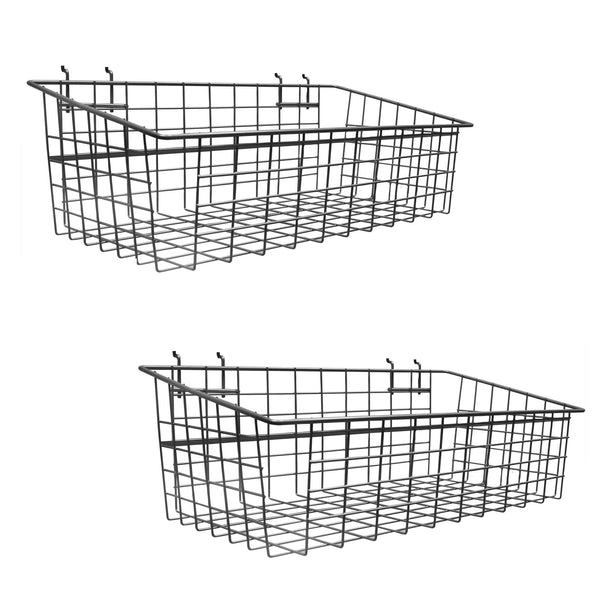 N° d'article : 39022

Le panier en métal très pratique de notre ligne de base d'Evolia vous permet un accès instantané à tout ce que vous voulez ranger; jouets, chaussures, chandails, chaussettes, etc.
L'ensemble comprend :
2 x Panier en métal (24 x 12,5 x 8 po)
Conçu pour s'accrocher sur les panneaux Proslat ou Evolia
Capacité de charge de 40 lb
Idéal pour la maison ou pour les magasins au détail
Acier ultra-robuste au fini mat
Facile à accrocher et à suspendre

Dimensions: 24 x 8 x 12,5 po (L x H x P)


Proslat works wonders
Received the baskets and shelving in short order and everything was easy to install.
Product is high quality; solid welds and nicely finished. Installation took no time and it looks great!
Hi Frederic,
Thank you for taking the time to share your experience with us! We're thrilled to hear that you received your baskets and shelving quickly and found them easy to install.
It's great to know that you found the product to be of high quality, with solid welds and a nice finish. We take pride in the quality of our products, and we're glad to hear that our efforts have paid off.
Thank you,
Beautiful!
Easy to install and looks terrific! Holds the skis equipment easily and cleanly.
Basket 24 x 12.5 x 8 in. – 2 pack
Great for expanded storage
Great storage with these baskets, with more options on the size of items that can be stored on my Proslat walls. Much easier to install and more solid than the larger 24" or 48" wire shelves.