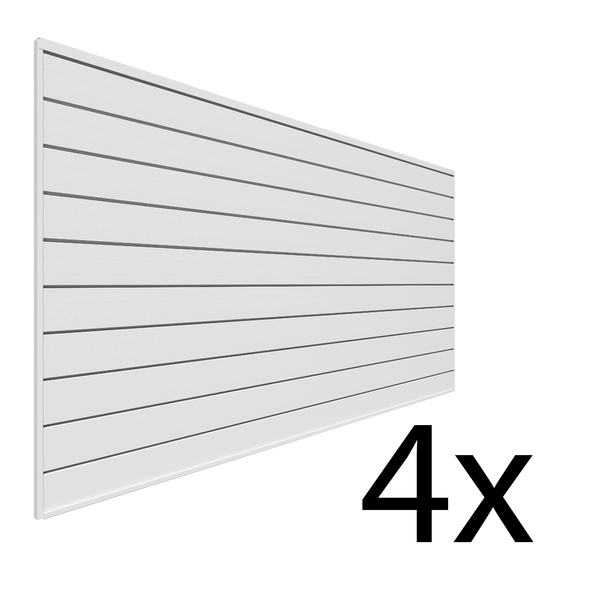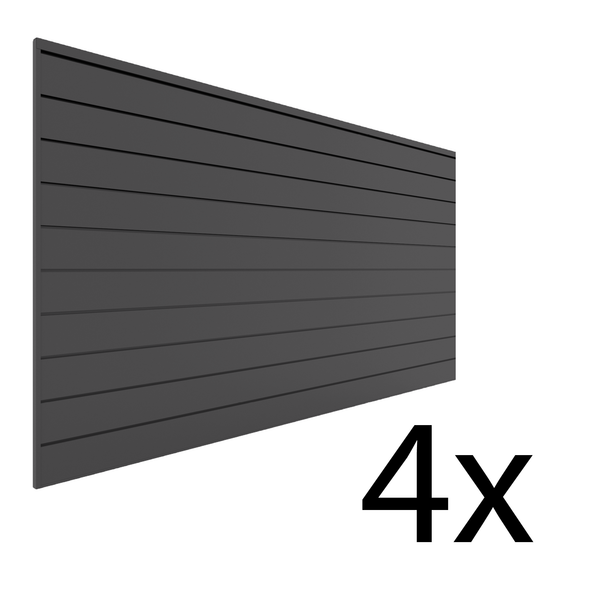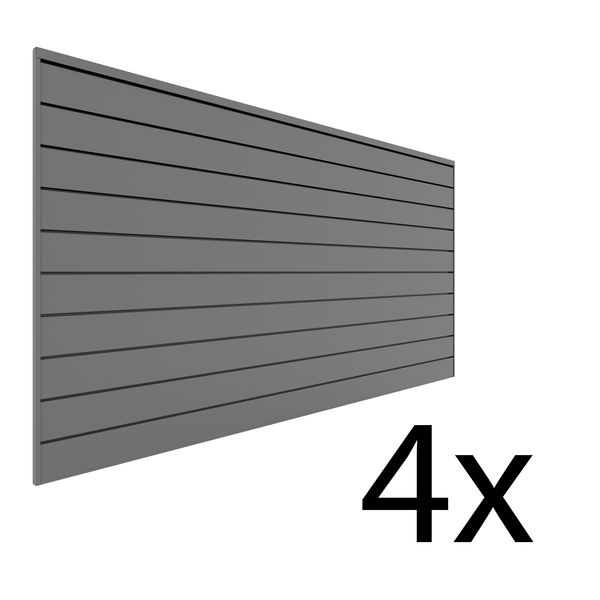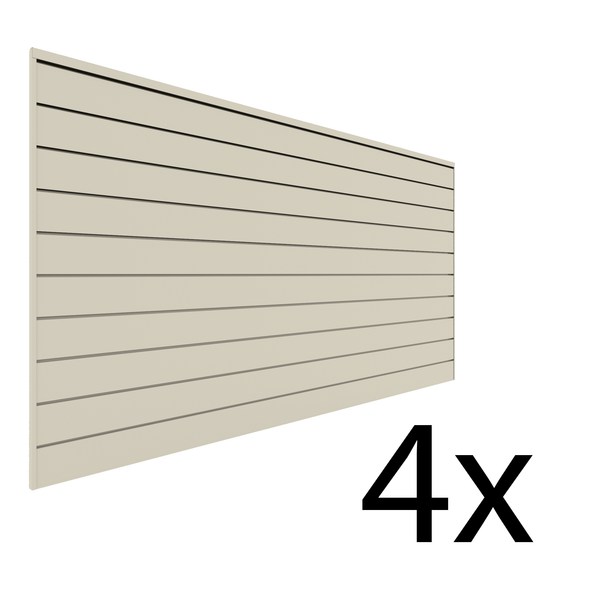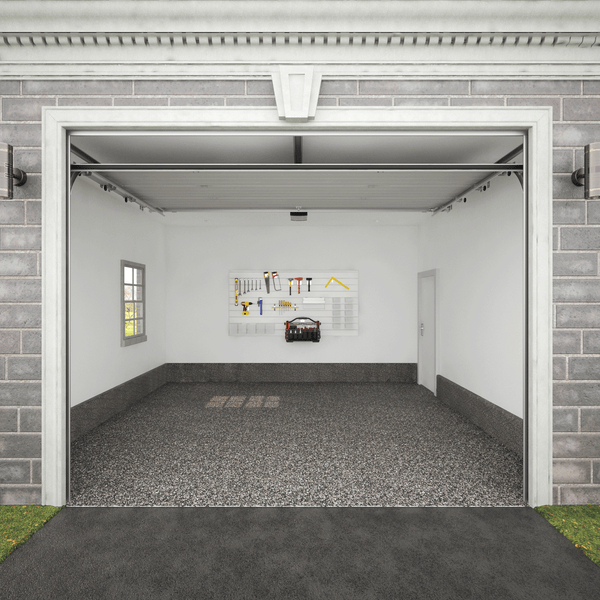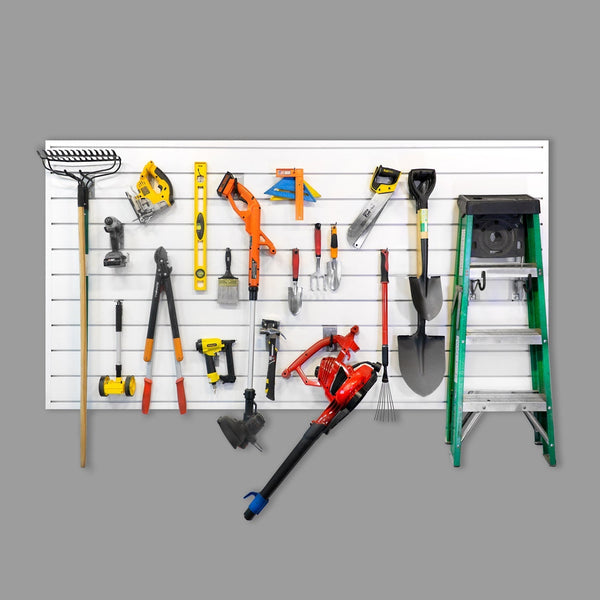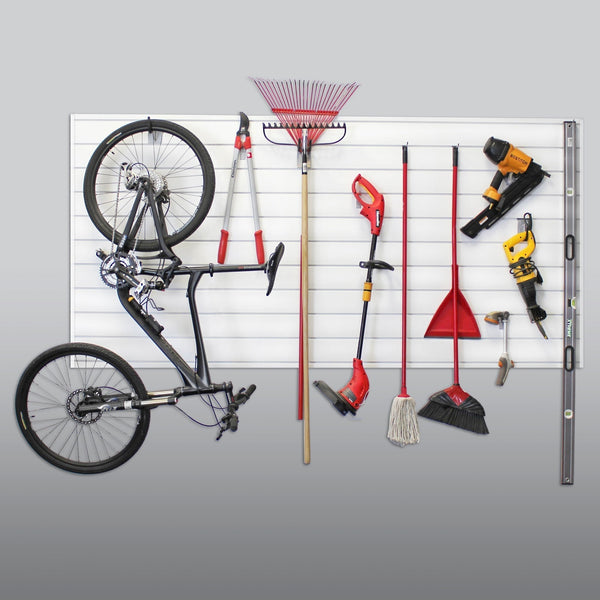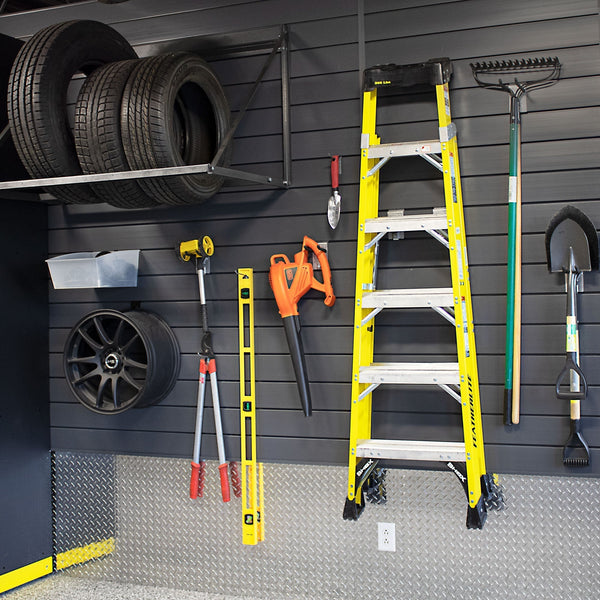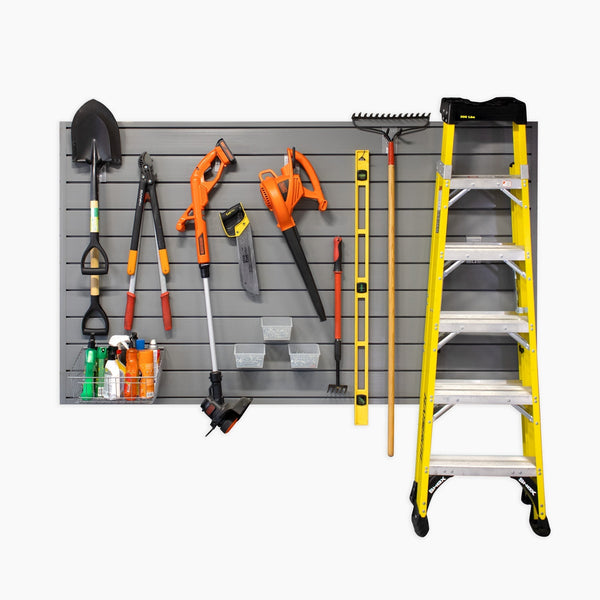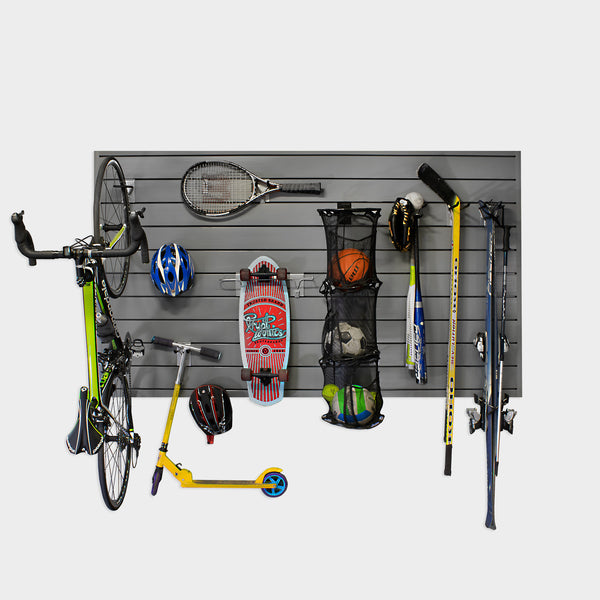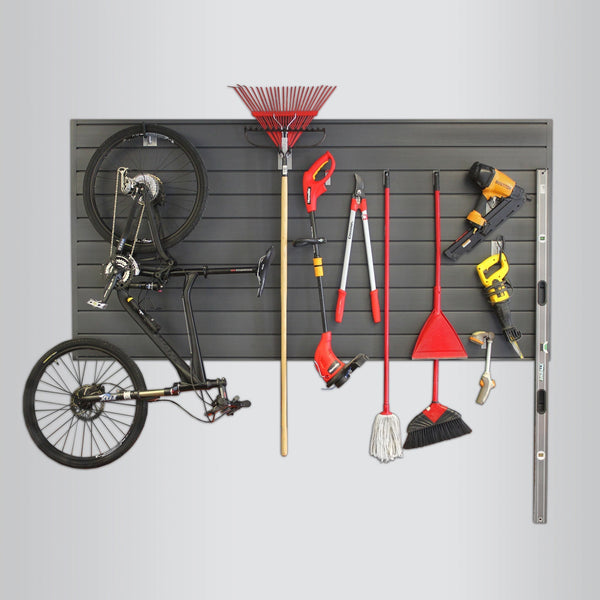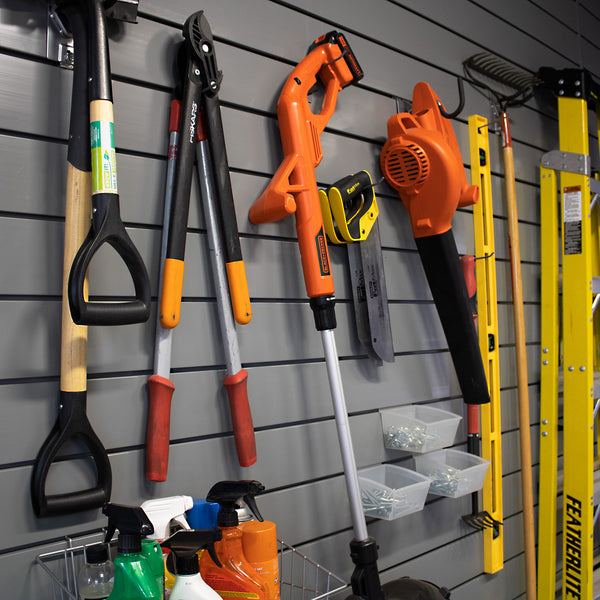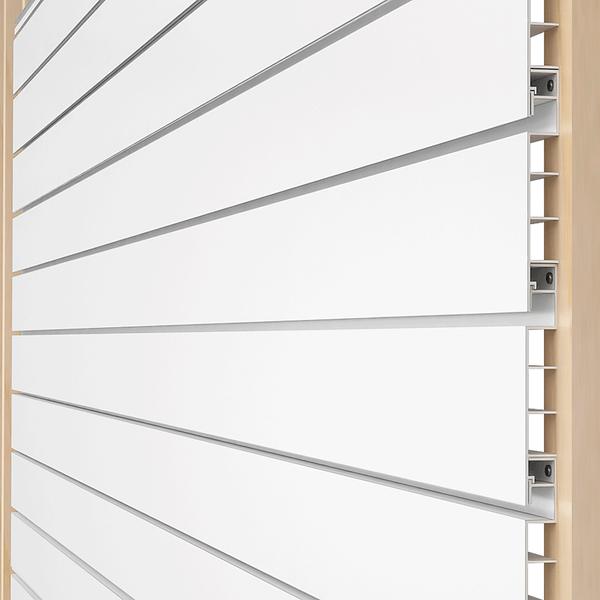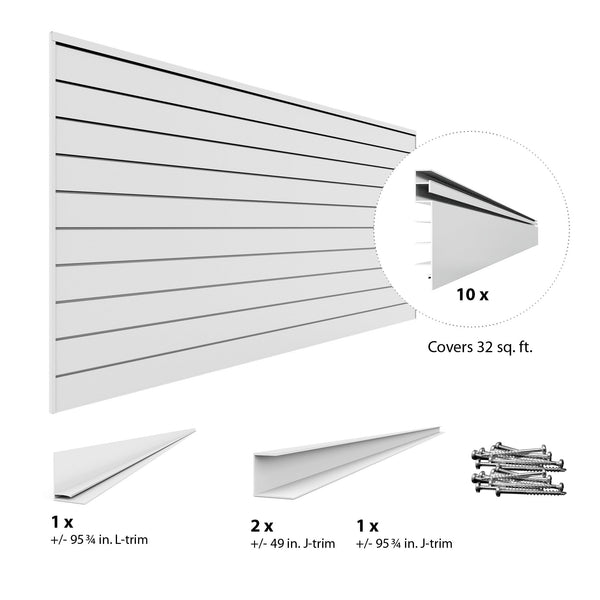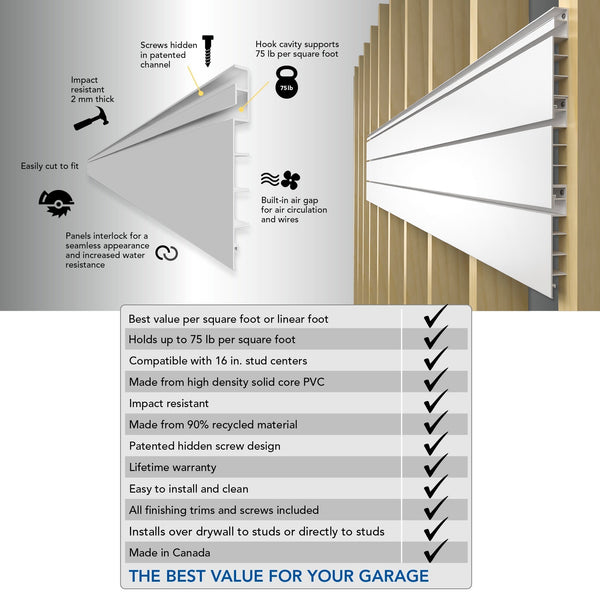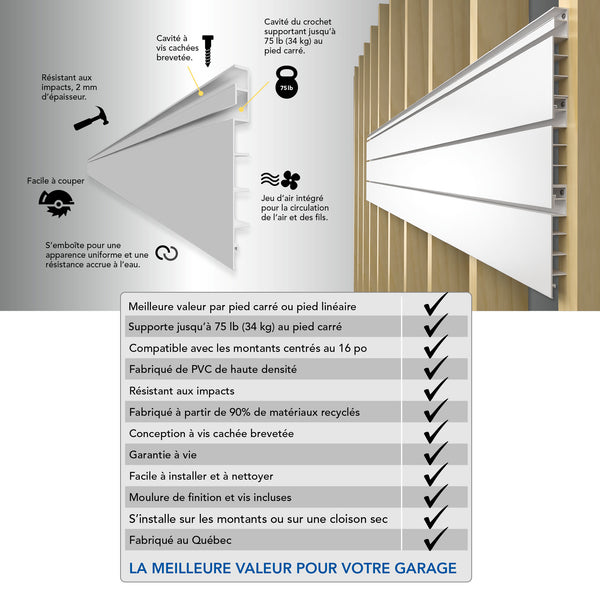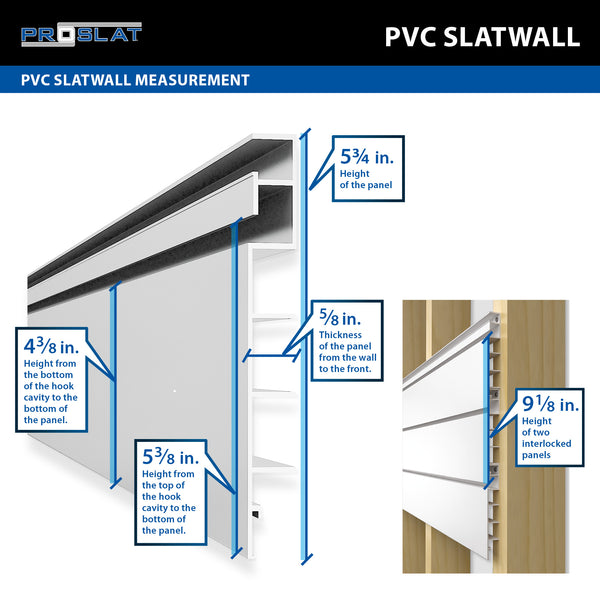 ROBUSTE – Les panneaux de rangement Proslat peuvent supporter jusqu'à 75 lb par pied carré et sont garantis à vie. DURABLE– Contrairement aux lamelles en bois, nos panneaux de PVC haute densité résistent à l'humidité et à la moisissure. POLYVALENT – Ce système est l'un des plus polyvalent. Les panneaux peuvent être installés en tant que rail, section ou mur complet. FACILE – L'installation est simple et le design unique à vis cachées permet une finition professionnelle. COMPLET – Toutes les moulures et les vis de montage sont incluses dans la boîte. VERT – Fabriqués à 90% de matériaux recyclés, nos panneaux sont l'une des solutions de rangement les plus écologiques sur le marché. LOCAL – Nos panneaux sont fièrement fabriqués au Québec.

* Les panneaux en PVC d'origine et les moulures ne peuvent pas être installés conjointement avec les panneaux en PVC PROCORE.
L'ensemble comprend :
4 Sections de panneaux pour un total de 128 pi2
Chaque boite contient :

10 x Panneaux en PVC avec bande de renforcement en aluminium qui une fois installés forment une section de 8 pi x 4 pi / 32 pieds carrés
2 x moulures en J de +/- 49 po
1 x moulure en J de +/- 95,75 po
1 x moulure en L de +/- 95,75 po
Matériel et instructions
Chaque section de 8 x 4 pi (32 pi²) comprend toutes les moulures et le matériel requis pour l'installation

Capacité de chargement de 75 lb (34 kg) par pi²
PVC robuste fabriqué de 90% de matériaux recyclés
Panneaux emboîtables, anti-moisissures et hydrofuges
Installez les panneaux de rangement directement sur les montants muraux ou sur les cloisons sèches à travers les montants muraux
Facile à nettoyer à l'aide d'un chiffon humide
Jeu d'air intégré pour passer du filage derrière les panneaux
L'épaisseur des panneaux est de 2 mm
Garantie à vie
Fabriqué au Québec
Les panneaux en PVC d'origine et les moulures ne peuvent pas être installés conjointement avec les panneaux en PVC PROCORE.

Dimensions installés : 32 pi de long par 4 pi de haut
Couverture totale: 128 pi2 (12 m2)
Nice, strong and good finish
Good product, strong but a bit difficult to install due to trim flexibility. Nothing to worry just taking more time to install
Hi Yves,
Thank you for your review, and attaching a photo! Looks fantastic.
Thank you,
4 Pack of 8' X 4' PVC Slatwall
The slatwall was delivered quickly and in perfect condition. Once you ensure that you have a level starting point, the installation is straightforward and quick. The finished product looks professional and is very solid / sturdy. We have had many compliments by family and friends.
Hi Victoria,
Thank you so much for your positive feedback! We are glad to hear that your slatwall was delivered quickly and in perfect condition, and that you found the installation process to be straightforward and quick. We are also happy to hear that you are proud of the finished product and have received compliments from your friends and family. Thanks for choosing our product!
Proslat Team
Clean look
Purchased 14 packs of the slatwall panels. Easy to install, but a little tricky on making sure you finish with a complete panel at the top. Have to be a pretty exact measurement on your first panel you install at the bottom. Have a lot of 4 foot trims I don't need, due to the panels being sold in 4x8 sets. Had to order seperate H trims to continue panels on my garage walls, mean while i have all this trim I dont need. Good product, but making large orders would be better if we could order what we need and not the 4x8 sets.
Hi Longo,
Thank you for your valuable feedback and for choosing our slatwall panels! We appreciate your input regarding the excess 4ft trims and understand the inconvenience it may cause. We'll definitely consider your suggestion of allowing customers to order the panels based on their specific needs. We're glad you found the panels easy to install and hope they serve you well in organizing your garage!
Best,
Proslat team
Top
Bonjour une entreprise local avec un service en 5 étoiles +++ ! J'aime sa serpent !
Bad quality control
Unfortunately one of the Slatewall was damaged, sent an e mail to consumer service and they were able to solve the issue
Hi Rémy,
Sorry to hear that you did not receive a response from our team, we had some recent internal changes. I would be happy to assist you! I will reach out via email to get this taken care of.
Thank you,