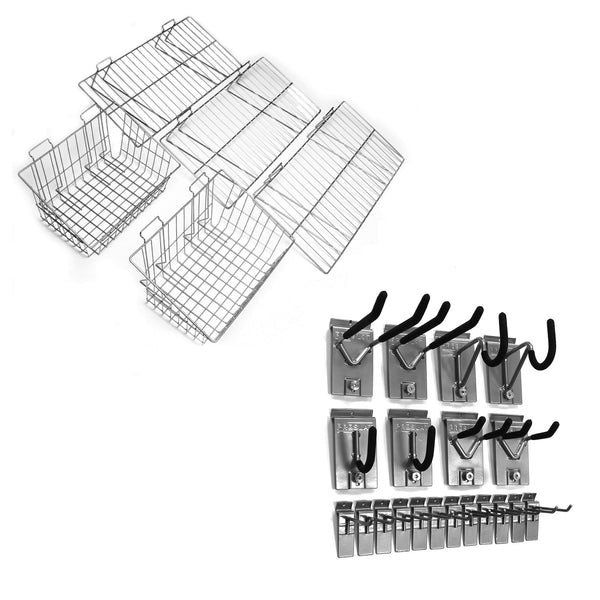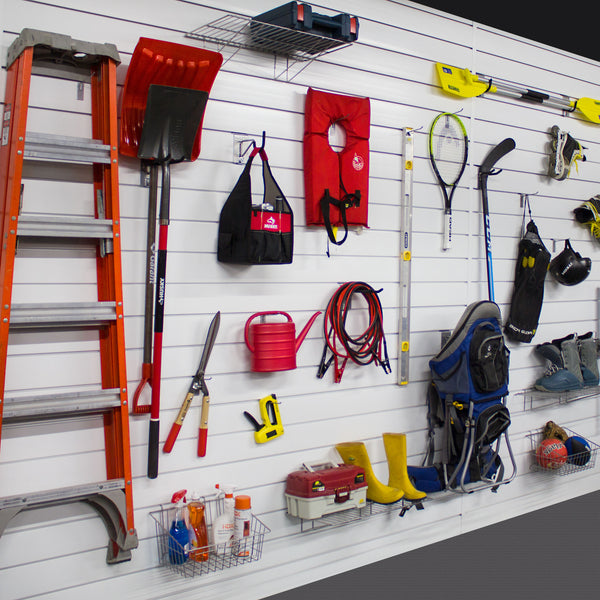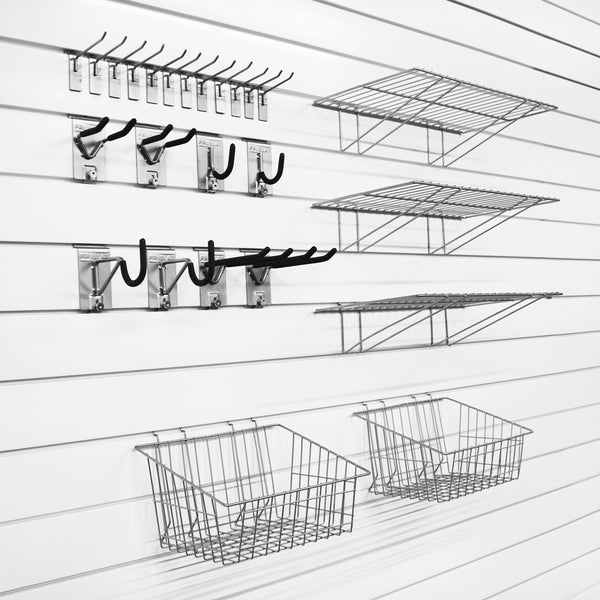 N° d'article : 11009
L'ensemble ultime vous permettra sans aucun doute d'organiser efficacement votre garage. Il comprend 20 de nos crochets les plus populaires et un ensemble de trois étagères et deux paniers. Ce lot d'accessoires est parfait pour découvrir nos crochets et commencer à vous organiser.
L'ensemble d'étagères et de paniers en métal de Proslat est conçu pour vous offrir des solutions de rangement optimales, le tout dans un emballage à valeur ajoutée. Ce duo est léger, de grande capacité, et possède des coins arrondis pour une sécurité accrue.
L'ensemble comprend :
12 x Crochet 4 po (10002)
2 x Crochet 8 po double(10010)
2 x Crochet 4 po double (10011)
2 x Crochet extra-fort (10012)
2 x Crochet en U (10017)
2 x Panier en métal de 15 po x 8 po x 11 po (38,1 cm x 20.3 cm x 27.9 cm)
3 x Tablette en métal de 12 po x 24 po (30,5 cm x 61 cm)
Conçu pour s'accrocher exclusivement sur les panneaux de rangement Proslat ou Evolia
Enduit de caoutchouc pour protéger vos article (À l'exception du crochet 4 po)
Acier de haute qualité. Fini poudre électrostatique de couleur argent pour une meilleure résistance
Facile à accrocher et à nettoyer
Capacité de charge par crochet :
Crochet 4 po : 15 lb (6,8 kg)
Crochet double 8 po : 40 lb (18 kg)
Crochet double 4 po : 40 lb (18 kg)
Crochet extra-fort : 50 lb (22,5 kg)
Crochet en U : 50 lb (22,5 kg)
Tablettes et paniers :

40 lb. (18 kg)
Aersome
Love the product and the quick delivery
I recommend
great value
meets all your basic needs and great value
Hi Steve
Thank you so much for taking the time to share your wonderful 5-star review! We truly appreciate your kind words and your support. It's customers like you who make our work incredibly rewarding. The Proslat Team
Ultimate proslat wall kit
I recently got the Proslat wall and so happy with the product. It's amazing wall organizing kit. My garage looks much better, tools organized and easy to find. Also installation was so easy with the step by step instructions.
I'm so happy with the quality and price of the product. Next is to buy the garage gator hoist
Hi Maged,
I'm so happy to hear that you are enjoying the product! Thank you for taking the time to leave us your feedback. Have a great day.
Good product
this is solid and look great !